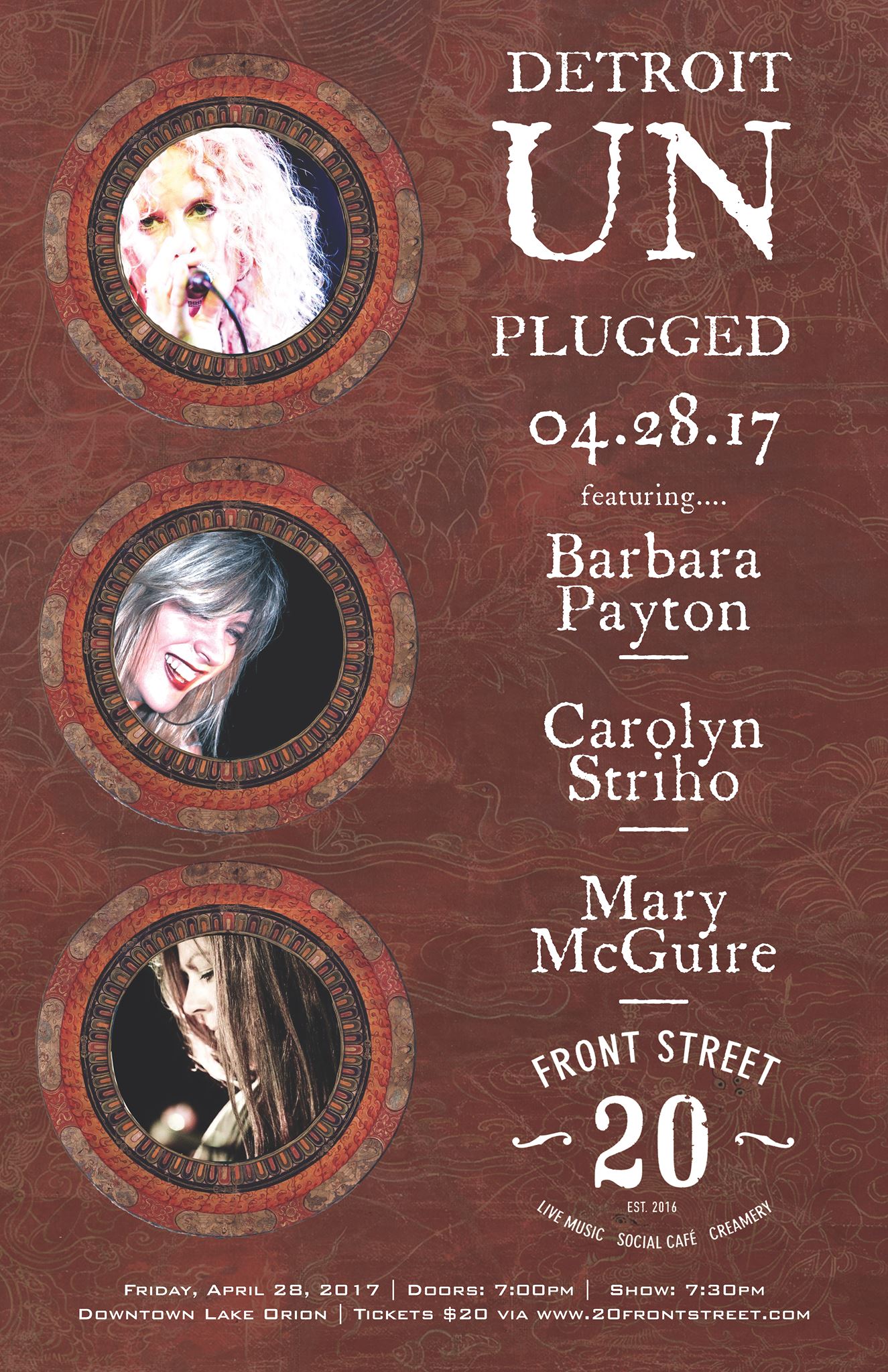 For Immediate Release: Detroit Unplugged: What is Old School is New Again
March 22, 2017
Detroit, Mich — Detroit Unplugged is fitting for a big night with a big show at a gorgeous new Michigan venue. Featuring Barbara Payton, Carolyn Striho and Mary McGuire – three Detroit Music Award winning musicians who will come together in a rare appearance on Friday, April 28 at the celebrated 20 Front Street, a boutique concert venue in Lake Orion.
Recipient of the 2016 Detroit Music Awards for Outstanding Rock/Pop Vocalist, Barbara Payton is a sultry, Detroit rock singer/songwriter with a soulful, bluesy voice. Recognized as one of Detroit's most powerful and engaging live performers, Barbara Payton has rocked stages, festivals, arenas and private listening rooms for more than 25 years. Rock writer Thom Jurek shares, "[Barbara can] surprise, delight and at times astonish with her powerful, passionate voice." It is that voice that sets her apart. A definitive force on the Detroit music scene, Payton's possesses a vocable compass able to switch gears and sing something soft, with sensitive phrasing to something gusty with a killer forte. In addition to her solo career, Barbara has recorded and toured as a background singer for both Bob Seger and Kid Rock, and with them, performed on national television shows Ellen, Jimmy Kimmel, The Tonight Show, and at inauguration festivities for President Barack Obama.
Recipient of the 2016 Detroit Music Awards for Outstanding Rock Songwriter, Carolyn Striho made her name fronting the dynamic Detroit Energy Asylum and worked with the priestess of punk, Patti Smith. Wildly original, melodic and passionate, All-Music Guide describes Striho as being written "from the silver edge of midnight." Speaking of edge, Striho has gained a strong reputation for charismatic, high-energy stage performances. Gary McFarland of the National Rock Review writes, "The eclectic, alternative sound, contains elements of Carolyn's long history in the Detroit Punk, Alternative, Folk, and Avant Garde scene. Carolyn's performances seduce the audience and engages them with her genuine emotion bringing all of us along for a wild ride." Expect songs from her new release "Afterthought," which showcases her edge and her depth as a songwriter. On stage, Striho deftly switches between guitar and keys while belting out vibrant vocals, leaving the audience with a full-on presentation of her art on stage.
Recipient of the 2016 Detroit Music Awards for Outstanding Americana Songwriter, Mary McGuire has a myriad of influences and growing up in 70's Detroit and getting schooled by the jocks at America's first underground radio stations had a major influence on her early musical education. Matt Harmon of the Detroit Metro Times shares "she seemingly shifts genres at will…." chalk that up to being an avid listener, studying music while living, writing, recording and performing across America. Joe Montague of Riveting Riffs Magazine writes, "Michigan singer-songwriter and musician Mary McGuire may be one of the most underappreciated, yet most gifted artists in America today." Her evolution as a songwriter
came from the rock influences in industrial Detroit, gentler folk influences from the shores of Martha's Vineyard and the country rhythm of the horses clipping along on the car-free streets of Mackinac Island, absorbing all of this is what influences her and defines her characteristic songwriting style. Expect a glimpse of these very influences gleaned from the Upper Midwest to the East Coast and back in this listening room.
20 Front Street is an intimate listening room designed to evoke sound quality and provide a live music experience unlike any other venue and it does just that. The sound is excellent, in part because of the great audio techs but also in part to acoustics of the room itself. The rustic yet glamorous décor with rich and warm jewel tones colors of the room set off by a sparkling chandelier gleaming on reclaimed hardwood floors, and rustic hardwoods including Thai architectural elements and auditorium style seating on antique curved pews from an 1893 church in Caro, all work together to make this venue a visual experience and an aural delight. No wall is parallel with another wall, and specific types of woods were selected that best reflect sound. "It reminded me of the set of MTV Unplugged back in the 90s, but better because it is more intimate" shared singer/songwriter Mary McGuire, "we decided to reference that vibe in the name of our show and are really looking forward to performing at 20 Front Street this April." Grounding the property in its roots as a creamery originally opened in 1940, the lower level has been returned to an ice cream window amongst a creekside garden space overlooking Paint Creek. This Lake Orion listening room is fast becoming the hottest acoustic venue in the Midwest.
Doors at 7:00 p.m, show from 7:30 p.m. – 9:00 p.m.
Advanced Tickets $20 @ http://20frontstreet.com/event/detroit-unplugged (recommended)
More on Barbara Payton: www.barbarapayton.com
More on Carolyn Striho: www.carolynstriho.com
More on Mary McGuire: www.marymcguire.com
More on 20 Front Street: www.20frontstreet.com
Detroit Unplugged: Featuring Barbara Payton, Carolyn Striho and Mary McGuire
Date: 4.28.2017
Time: Doors at 7:00 p.m, show from 7:30 – 9:00 p.m.
Venue: 20 Front Street
Address: 20 Front Street Lake Orion, MI 48362
Tickets: $20 via http://20frontstreet.com/event/detroit-unplugged/