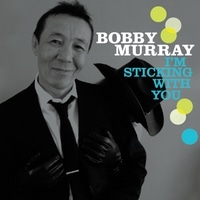 If you're a blues fan, Bobby Murray is one of those guys you've already heard and appreciated a lot…whether you know it or not. His professional resume is almost ridiculous – he was a high school bandmate of Robert Cray, spent over twenty years as the guitarist for The Roots Band backing Etta James, he's worked with luminaries such as Albert King, Johnny "Guitar" Watson, Taj Mahal and oodles more, he's played guitar on three different recordings that have earned Grammys, appeared on The Tonight Show, Austin City Limits and Late Night With David Letterman, played live at the Barcelona Olympics and for Bill Clinton's inauguration…Like I said, you already know he's a great bluesman without hearing note one from his own work.
I listened to this album before I read his bio sheet or did my research on him, and after a few listens had planned to mention Robert Cray when talking about it. It actually took me a little while to figure out why this album compares so favorably in my mind to Cray's work; the two guitarists are somewhat similar in style, but that's not unusual, and it's not like Murray is a clone of Cray at all. Over time, it sort of dawned on me. One of the first things I always think of when I think of Robert Cray's music is the quality of his material. His stuff is unmistakably blues, but in a proper world, there's no reason at all why he shouldn't be played on a ton of other formats; soul, adult progressive, adult contemporary, classic rock… he'd fit in all of those places. Second, he always plays with a joy for his craft that shines beyond his music. In both of those instances, it would be easy to substitute Murray's name for Cray and be every bit as honest. When I saw that the two have been long time friends, I thought to myself, "Well… that makes sense."
Considering Murray's experience, and with all those miles, all those stages and the variety of working styles under Murray's belt, you'd expect pretty darned good things from a solo. You'd figure, of course, he'd be a very, very accomplished player – boom! Yes. You'd figure he'd not only be comfortable in a variety of styles, but make all of it sound fluid and natural as well. Boom! Yes. You'd figure that whatever the burn is that keeps a lifer musician going and that supplies the joy that shines through a good album would be present in excess. Boom! Yes again. Great albums, of course, start with great material, and this one is no exception. Most of these tracks have a good, bright, medium-to-uptempo feel to them, the kind of songs that can provide a soundtrack to, say, those great summer days when you have some lazy time to kick back and listen to some tunes with your pals. There's a couple of notable exceptions; "Rock My Soul" is a stunner of a ballad with a vocal worth remembering from Barbara Payton. It's not a sad song at all, and when Payton lends her velvet tone to lines like "When you rock my soul/it does my heart so true," you can only feel envy for whoever she's singing to. Murray's guitar work on this track is silken, soulful, and sneaky brilliant, and he really backs up his ability to just kill a slow number with the superb "Bad Case Of The Blues." This is one of my favorites on the album, with it's clean and soaring guitar lines carrying an already good song to great heights. His uptempo work is no less impressive.
The album's title track, featuring another impressive vocal (this time from Paul Randolph) hits you with a melody line that isn't leaving your head anytime soon, complimented with a solid Detroit-soul arrangement and, of course, more of Murray's magic. "Comin' Atcha!" has a little sneaky voodoo to it; "Baby Needs Some Lovin' Too" is one of the most soulful pieces on the record, another of the bright and memorable songs here that deserve radio play (right down to the perfect pop-soul hook of a chorus); "Movin' On Down The Line" has that slinky Booker T feel to it and provides yet another opportunity for Murray to shine bright. As if all this wasn't enough, the album closes with my personal favorite, "Building Of Love." This is one of those melodies I almost curse Murray for – it's so damned catchy, I had a hard time getting it out of my mind for a long time after a single listen. The arrangement is nice and funky with plenty of room for both guitar and keyboard accents, the vocal work (Tom Hogarth on lead) is top notch and Murray floats all the way through the piece with his by-now familiar effervescent leads that do nothing but drive this gem way down deep into your psyche. Murray and fellow guitarist Brian "Roscoe" White share the production credits on the album, and I love what they did all the way through. The arrangements aren't simple by a long shot, yet everything has space, the recording is clean and the myriad of noteworthy performances here are all given their proper due. Back in the day, the pacing of an album used to be part of the art form, and it feels like Murray and company took that very much into consideration here. The record offers a really nice flow from beginning to end, and it and easy listen from start to finish. It's Bobby's first studio recording as a solo artist since 1999 – I'm sincerely hoping we don't have to wait as long for the next one, because this man is far too talented to be just a footnote to so many other brilliant careers.
-Silver Michaels
silvermichaels.weebly.com/dinosaur.html
Dinosaur music blog and examples of my photograph and graphic design at silvermichaels.weebly.com